26 Apr

Vendor Virgin: Must Ask Questions

Martha of PulpArt is a craft show veteran with more than 15 years of shows under her belt. Her key to a lucrative craft show season is doing her research before applying to find the shows that fit her work the best. Such a long career and varied craft show experiences helped Martha hone her questions to ask show promoters. With the craft show season fast approaching, she shared her top 10 questions and pointed out items that should be on the application.

[hr]
Questions to ask the show promoter
1) How do you advertise? Radio, TV, billboard, direct mail?
If a sign stuck in the ground in front of the craft show is the extent of the advertising, very few people will come to the show. A good craft show will invest in radio, direct mail or other advertising venues. A good turnout means more sales for you, so it's important to know how the promoter plans to lure customers.
2) How are assignments made for more desirable spaces?
Corner spaces, larger spaces, and spaces near the entrance are prime real estate for traffic. These are the places you want to be. Does it cost more to get one of these spaces? If not, how do they determine who gets them?
3) Do you fill spaces by category?
A balanced show will fill spaces by category. If they only have 10 slots for jewelry vendors, it may be more competitive for a jeweler to be accepted into the show – but once there, there's less competition for sales. It also makes for a more interesting and diverse show, since more types of media will be represented.
4) How many spaces are being rented for the entire show?
The number of spaces speaks to the seriousness of the promoter. A show that has 10 booths in a church will attract a different crowd than 100 booths in a convention center. Customers like to shop in a crowded area where they aren't the only ones looking. The bigger the crowd, the better.
Customers avoid your booth if no one is there, but if you have just one customer eyeing the wares, more will pile on. This phenomenon is explosive at larger shows with more booths and lots of customers.
5) How many applications were received for last year's show? How many vendors were admitted?
The acceptance rate will tell you how choosy the show promoters are. Does everyone who applies get accepted? That means there will definitely be crocheted toilet paper holders for sale. Determine whether your work will be lifted up or pulled down by the type of work being sold.
6) What kinds of crafts have been exhibited in the past?
Is the show tailored towards high-end artisans, or is it more of an arts and crafts homemade feel? High-end shows will have glass-blown art, furniture, weaving, blacksmithing, oil paintings and other expensive items. The homemade shows will have lower-priced items like beaded jewelry, knitting, greeting cards and the like. How will your work look next to these items?
7) What is the recommended price range for work in this show?
If most of the items being sold are $10-50 and your work is $500, your might be in for a bad day. It's okay to have more expensive items available, so long as you have something to offer in the normal price range.
8) Is there an entrance fee for customers to get in?
An entrance fee means people are paying to get in – in my experience, these are usually more serious buyers. An entrance fee that's part of a fund-raiser may be a real draw for community support.
9) What's the anticipated attendance this year? What was the attendance last year?

Attendance can have a big impact on sales, especially for higher-priced items. I finally figured out that the small school and church shows aren't worthwhile for me; I needed an established show with an anticipated attendance of at least 5,000.
10) Are there artists I can contact from the previous year to ask about the show?
Vendors aren't shy about sharing the scoop on shows. It doesn't hurt to contact a few and hear about their experience.
It's up to you to decipher what all the answers mean to you and how they'll result in sales – every type of media will sell differently.
Application Must Haves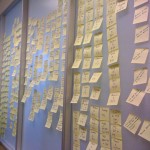 The following information should be in the application itself. If it's not, you may want to reconsider applying for the show at all – or at least be prepared to ask some tough questions of the promoters. Sometimes a book can be judged by its cover; an application is the first indication of how well the show is run.
[clear]
How many years has the show been held? Is this an established show or only in its first or second year?
What is the space fee? What are the other costs beyond the space fee? Electricity? Table rental?
Is the show juried? Is there a jury fee? How do you assess items to be juried?
Is the show outside or inside? For outside shows, what are the accommodations for inclement weather?
Is there another draw to pull people away from shopping? For instance, is this a few craft booths at an apple festival?
What's the process and timeline for set-up and tear-down?
If the show is longer than one day, is there security?
When will I hear whether or not I'm accepted?
Good luck, new vendors! Go forth and sell. Read the rest of the Vendor Virgin series for tips on planning and preparing for the show.
[author] [author_image timthumb='on']https://beta.brittanysbest.com/wp-content/uploads/2013/04/pulpart.jpg[/author_image] [author_info]Martha of PulpArt creates handmade plantable paper, wedding place cards, wedding favors, paper sculpture, cards, gift tags and more. She's going on 20 years of papercraft and is still delighted by it.[/author_info] [/author]
[flickr]Cover image by exousia.etsy on Flickr. Starting to design an application by Juhan Sonin on Flickr.[/flickr]