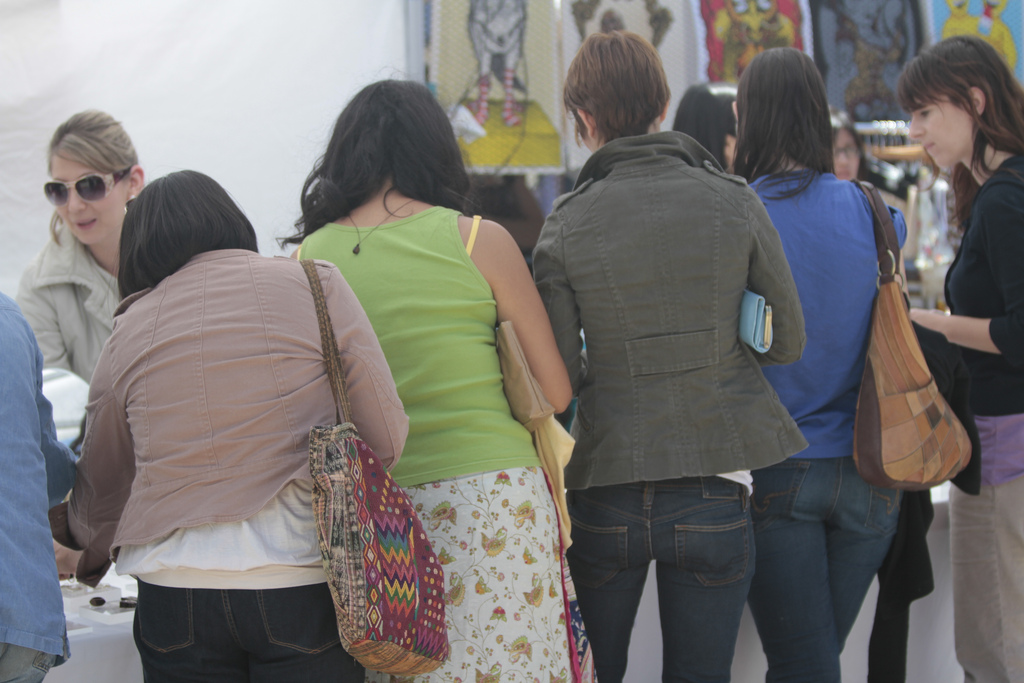 29 Apr

Vendor Virgin: Working the Craft Show

Last time on Vendor Virgin we covered preparing for a craft show after you've been accepted. All the preparation in the world won't make you feel ready for your first time, but this article should help calm the butterflies in your stomach with tips for working the crowd. Learn how to make the most of your booth as we dive headfirst into the throng of customers.

[hr]
Arrival and set up
Most craft shows will allow you at least an hour to arrive before the show and set up your booth. Make sure to arrive early even if it only takes you 15 minutes to set up your booth. Planning to arrive early will prevent any catastrophes on the way from starting your day off panicked and frazzled. You'll also find that one of the most valuable experiences at a craft show is to meet other vendors – which is hard to do when you're at the booth all day! After you get set up, take business cards or small samples of your product around and introduce yourself to the other vendors at the show. I've made some great friends, gotten killer advice and heard about upcoming craft shows from other vendors. As with any business, networking is key – and who knows, you might just find a great item to buy too!
Many vendors will advise you to stay standing during the show. A vendor sitting hidden behind a wall of items fades into the background. Standing will certainly make you more approachable and keep you engaged, but can be real murder on your feet. Make sure to wear comfy shoes to the show. Folding bar stools are a great option if you can pick them up for cheap – nearly standing, yet oh-so-comfortable!
Step right up, ladies and gentlemen!
The single most important thing you can do at craft show is engage your customers. Smile, be friendly and talk to every customer. It can be as simple as a hello or asking them how their day is going. Try it as an experiment – wait until someone is hovering at arm's length from your booth, seemingly uninterested. The second you welcome them or invite them to look around, they'll take two steps closer and start looking more seriously at your items. The difference is remarkable. That being said, don't try to talk customers into purchases or be too pushy. Be available for questions and offer information on your items, but let the customer do the shopping. It's a fine line to walk!
Encourage touching and have a mirror handy if your product is jewelry or something else people might like to try on. If you have something kid-friendly, be sure that the kids and their parents know that it's okay to touch and play with the items. Kids are so used to being told not to touch at craft shows that their faces will simply light up when there's something they can play around with. It also brings the parents over to have a look at your items as an added bonus!
Whether to bring a craft project to work on is a topic of debate – you'll find advice either way. There are definitely some crafts that lend themselves to showing off better than others. Having a work in progress for people to see can be a draw, but it can also detract from your customer interaction. If you do bring a project, make sure you can stop in the middle of it to greet the crowd or evangelize your products.
Making the sale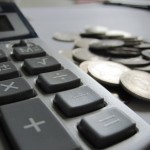 Praise the heavens, someone wants to buy an item and you're just moments away from making your first sale! Be sure to remember the essentials – bag, receipt, business card. Wrap the item in tissue or bubble wrap if it's fragile. Jewelry boxes are an added touch of flair for jewelry vendors – USBox has some affordable options. Put the item in an easy to carry bag – you did bring bags, didn't you? Now is a good time to review the Vendor Checklist. I'd recommend slipping business cards into your bags before the show or during downtime so you don't forget to include one. Ask the customer if they'd like a receipt – most won't, but those that do will appreciate the courtesy. Most importantly, discreetly record the sale so that you can accurately pay sales tax if required. Having a written record will also help you evaluate your sales after the show.
Not making the sale
Some shows will be a bust. You may sell only a few items, or nothing at all. Remember not to get discouraged – every show is a learning experience. Pay close attention to what people are saying at your booth. Are your items priced too high? Are people paying attention to the items you want seen the most? Ask other vendors for advice on your booth set up and products, most will be happy to share some friendly advice! Just recently, I had a vendor with years of experience critique my booth and she gave some great suggestions about colors and layout that I'm working on for the next show.
The show itself can be a big factor to sales. Take some time to reflect on whether the show fit with your products and style. Choosing the right shows to attend can be the difference between great sales and a disappointing day. The experiences from this show will help you refine your choice about the next show to attend. Naturally, my post on finding craft shows is a great place to start!
After the show
Once the show is over, make sure to thank to organizer for getting it put together. Whether you had stellar sales or hit rock bottom, craft shows are a huge ordeal to organize and promote. It's also a good time to throw in some constructive criticism for the organizer if you have any complaints – just be sure to be respectful about it! Feedback about the artisans at the show, advertising and booth placement is usually appreciated, especially if you have a few positive comments to sprinkle in as well. Ask the organizer if there's an email list if it's a show or venue you'd attend again – repeat vendors often get priority and you'll hear about the show before it hits the mainstream.
Catch up with any vendors you didn't get a chance to talk to before the show and pass out business cards, then pack it all up and start planning your next show!
[flickr] Cover image by Parker Knight on Flickr. Calculator and Money by Images_of_Money on Flickr.[/flickr]