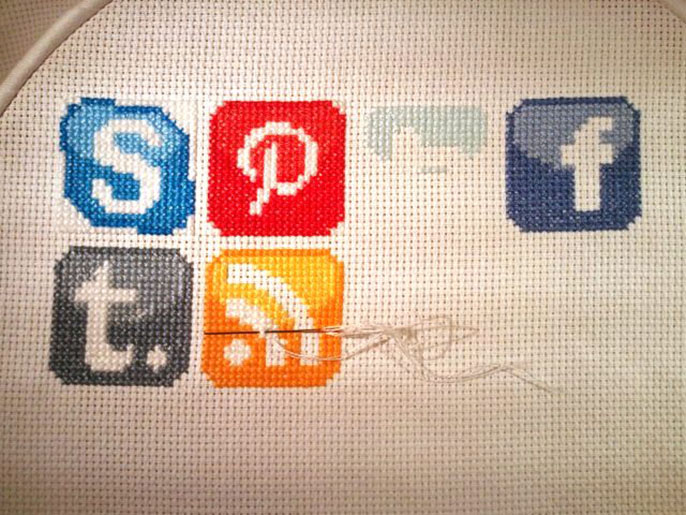 28 Aug

Choosing the Right Social Media

Social media has exploded; ten years ago, MySpace was the only game in town. Now there's Facebook, Twitter, Pinterest, Tumblr, Google+, Flickr, Instagram, Blogger, Reddit, App.net – and so many others that I'm exhausted just thinking about it. Social media is a great way to connect with your fans and promote your Etsy shop, but the time demands of keeping up with multiple sites can be crushing.

I started selling on Etsy in 2011; even then, the social media options were staggering. I'm here to tell you that it's okay – you don't need to be everywhere. Stretching yourself too thin on social media creates a problem that doesn't have to exist. Suddenly, you're too busy checking tweets or worrying about blog posts to work on your craft. When you do finally sit down to work, you're drained from over-promoting.

Stop the madness. Choose an outlet that's right for you and your shop. Social media sites aren't created equal – one of them is a better fit for your shop than the others. Start by answering some basic questions, then read on for a crash course in the pros and cons of the top four social media sites.
Do you spend time on the site personally?
Which site do you feel most comfortable navigating?
Which site is most likely to reach your target market?
How much time do you want to put into social media?
Facebook
Facebook is the 800-lb gorilla of social media – it has more users than the other top sites combined. It's the only social media site that can use the term billion when talking about users; that's the same measurement we use to talk about how many humans exist on Earth. To put this in perspective, 67% of all internet users have a Facebook account – Twitter is a distant second at a meager 16%.
To say that Facebook has the widest reach is putting it mildly. It's a safe bet for reaching your target market, but strangely not the best place to promote your products. Facebook has made a series of changes – ostensibly to improve their news feed – that make it more difficult to connect with fans and potential customers on the site.
The environment on Facebook is flexible – it's fine to post twenty times a day or five times a month. Posts can have photos, videos and links. It's lean on customization, so you'll jump through a few hoops to get shop listings or other advanced content; on the flip side, it's easy to create a business page that looks good with a minimum of technical prowess.
Twitter
Twitter's self-imposed limit of 140 characters has set the tone for communication on the site. Rapid-fire tweets, topical hashtags and hundreds or thousands of connections is the norm. Twitter feels like drinking from a fire hose if you're used to the casual, catch-up-on-everything atmosphere of Facebook.
Despite the volume of tweets, Twitter manages to strike a more personal chord than the other social networks. Perhaps, as Chris noted in her Twitter for Etsy Sellers article, it's that the playing field is level. I can tweet @BarackObama as easily as anyone else; no friending required. It's designed to be a cocktail party, not a soapbox.
Twitter is best if you enjoy posting often; be prepared to spend time building relationships with followers and finding the right people to include in your own feed. It's expected that you'll post about a variety of topics on Twitter – followers want to get to know you and relate more than strictly see what's going on with your business.
Twitter has a youthful demographic – the biggest age segment is 18-29 – and has a much greater mix of racial minorities than other social media sites. It also skews towards urban areas more than the 'burbs or rural locations. It's not great if you're selling lawn ornaments, but it could be a boon if you're selling handbags or other big-city, fashion-conscious items.
Pinterest
Pinterest is the new kid on the block, but has grown tremendously since its launch in 2010. The social bookmarking site is heavily visual; each pin has an photo attached that becomes the primary draw to entice re-pins and favorites. Pinterest users create themed "boards" to organize pins; others can follow boards they're interested in.
If you have a strong sense of style and design, Pinterest is a great avenue to share your interests. The key to promoting on Pinterest is stellar photos – merely good photos won't grab the critical eye of Pinterest users. Meka's Pinterest Tips to Increase Etsy Shop Traffic is a must-read for promoting on the site.
Pinterest has a largely female audience, so if you're trying to reach men the site may not be for you. Pinterest users also have a higher income bracket and more college graduates; good news for higher-end home decor items. Procrastinators beware, Pinterest has been known to suck away otherwise productive time as you get lost in the bevy of eye-catching pins.
Tumblr
Tumblr is a "microblogging" platform that intertwines social media and blogging. It's not quite Twitter and not quite WordPress, but somewhere in between. It has Twitter-like features of followers, hashtags, and re-blogs – yet offers more blog customization options, different post types and even custom domain names. As the microblogging name suggests, posts on the site are commonly a single image, or quick snippets of text.
If you're targeting a younger demographic, Tumblr is king – the site's users are almost entirely under 30, and the majority are well below that mark. The site isn't without controversy – Tumblr has come under fire for copyright violations and adult content. In July, Tumblr released new policy guidelines in an attempt to relegate adult content to back corners of the site. It's worth considering how the tumultuous Tumblr landscape might reflect on your shop.
Regardless of which social media venue you choose, it's going to take time and effort to make any of them successful for promoting your shop. It's easy to err on the side of over-promotion and spam your followers; try to strike a balance between promotion and meaningful participation. Above all, remember that the items in your shop are far more important to the success of your business than social media.
[flickr]Cover image by Jacinta Lodge on Flickr. Social media demographics from the Pew Research Center Demographics of Social Media.[/flickr]