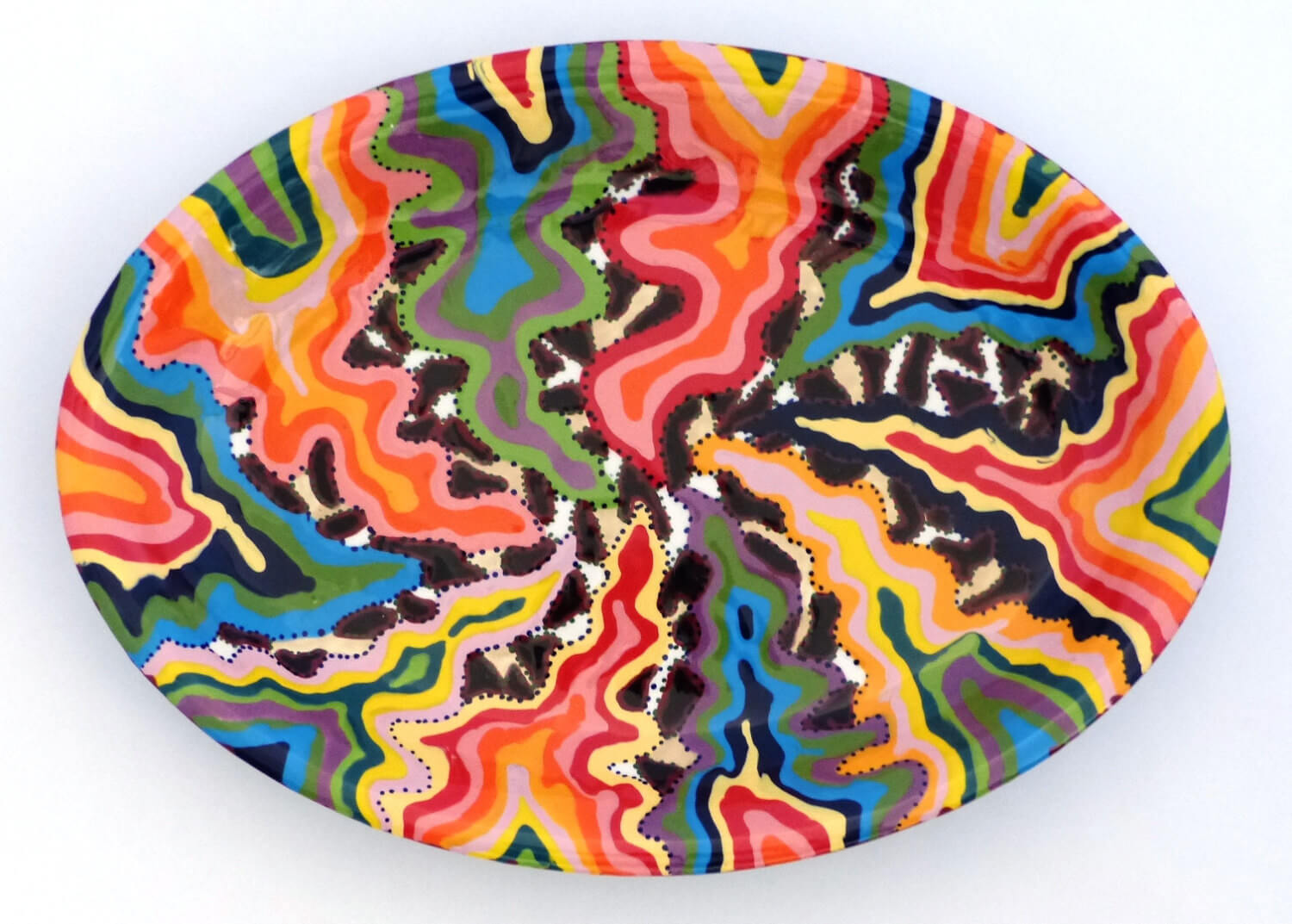 15 Oct

Undiscovered Treasures: Britt's Vibrant Pottery

Britt Anderson-Jackson of Britt's Vibrant Pottery creates brilliantly colorful and detailed 3D artwork by absolutely covering ceramics with her designs. She paints the outside, inside and even the bottom of each piece. With a degree in visual arts and a job at a pottery studio, it was only a matter of time before her creativity burst onto Etsy.

[hr]

Tell us about your background as an artist.

I earned a BA in Visual Arts from the University of Northern Colorado in 2011. In college, my focus was painting and printmaking. I really enjoyed the precise detail of printmaking. The process fascinated me – carving the image into the plate, inking the plate, using acids, etc. I loved the idea of having to wait to see what the finished product will actually look like.

Much of my work in printmaking was inspired by nature and fractals. Painting, on the other hand, is where I feel the most spontaneous. I start with the beginning of an idea in my mind and it continues to unfold as I paint. I love bright colors, and I mix and change them as I go. Again, nature is my biggest inspiration. I use lines, forms and images that I see in nature or my imagination.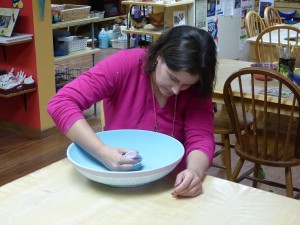 The summer before my senior year in college I started working at GoPaint!, a studio in downtown Evergreen, Colorado. The pre-made pottery we sell there soon became my new 3-D canvas. I've been experimenting with designs and colors for the pottery ever since. I paint abstract designs with colorful underglazes and then kiln fire them.
Your work is so detailed! How long does it take you to paint one of your designs?
It varies with each piece. For a mug, it usually takes me 2-3 hours to paint it. A large platter or bowl can take up to 8 hours to paint. This picture shows a bowl in progress that took 3-4 hours yesterday just to paint the inside.
Have you ever discarded a piece because you were unable to "erase"?
I've never been the type to throw away a piece. If there's something that I don't like about a piece, I'll just wipe it away and start again. The underglaze that I use allows me to easily wipe away 90 percent of the color. I like to be free flowing with my artwork and not let a single line or color distract me from my end goal. I always want to finish a piece that I've started.
What inspired you to start painting on 3D surfaces instead of canvas?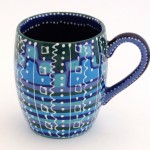 I had three inspirations. First, I started working at a paint your own pottery shop. I started to paint samples at the store and found it relaxing – and I kept getting positive feedback for the pieces. It gave me the inspiration to keep on painting – then I just took off with it. I've painted at least 300 different pieces in the past 3 years.
The second inspiration was wanting to find a quicker way to create beautiful art. I found that painting full canvases was too time consuming for me. I ended up not enjoying the process near the end of a full canvas piece.
Third, I had lots of family members and friends who were interested in my art and wanted to have something of mine, but didn't have a good space for a large canvas. I wanted to have more options for them to choose from, and something durable that would last for a long time.
Do you have a plan for the design before you start a piece, or does the design happen spontaneously?
My work is free flowing and spontaneous from the beginning. I might use the same design element, but it's never exactly the same. I enjoy continual changes in my work. Sometimes I choose to just use a few lines, while other times my pieces become very intricate.
You have a wide variety of hand painted ceramics in your shop. Do you have a favorite item to embellish with your designs? If so, why is it your favorite?
I love to paint very large bowls. It gives me the most freedom in designing and applying the paint. When I have such a large surface to paint on, I can picture more closely in my mind what the end result will look like.
What led you to open an Etsy shop?
I wanted to find a way to get my artwork out to more people. I've been a fan of Etsy for some time and wanted to learn more about it, and to see if any of my items would sell online.
Do you sell your work locally or in craft shows?
I have sold my work in art fairs in the Denver area for a couple years. I've been happy with the sales. I had very positive results at Summerfest in Evergreen, Art and Jazz in Denver and Art Stir in downtown Denver.
What do you do when you're not painting?
I like to hike, and I enjoy movies and cooking. I spend a lot of time looking at the changing seasons and getting color ideas from the nature around me.

Coloradoans can find Britt selling her colorful items at the Evergreen Winterfest craft show on November 1st. You can also see her continually evolving designs in her Etsy shop.